G.I. Joe Classified Series 6-Inch Tunnel Rat Action Figure
Regular price
Sale price
$35.00 USD
Unit price
per
G.I. Joe Classified Series 6-Inch Tunnel Rat Action Figure:
G.I. Joe is a highly skilled, on-demand, special operations force of men and women from around the globe. tasked with defending the world from Cobra, a ruthless criminal organization bent on total domination. The brave members of G.I. Joe seek out Cobra in any environment on the planet. From hostile jungles to ice-clad peaks…wherever there's trouble, G.I. Joe is there. New to the G.I. Joe Classified Series line, Tunnel Rat comes ready for adventure, with multiple points of articulation for high poseability. This Tunnel Rat figure contains 8 character-inspired accessories including goggles, backpack with 2 attachable flashlights, satchel, knife, and 2 weapon accessories; plus a footlocker to stow all his gear! Nicky "Tunnel Rat" Lee's Brooklyn family is Trinidadian Chinese with branches of Irish, Spanish, and Native American thrown in. "Tunnel Rat figures he can shoot straighter, bite harder, and run faster than anything he's ever encountered in an enemy tunnel, so what's to worry. " Ages 4 and up.
Share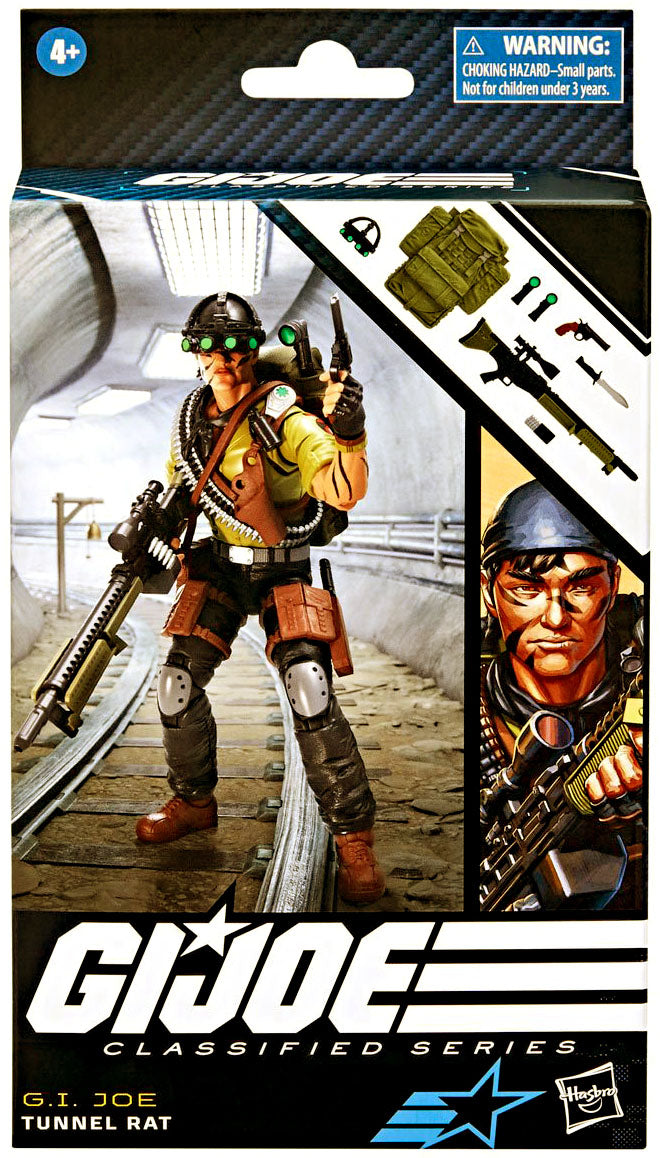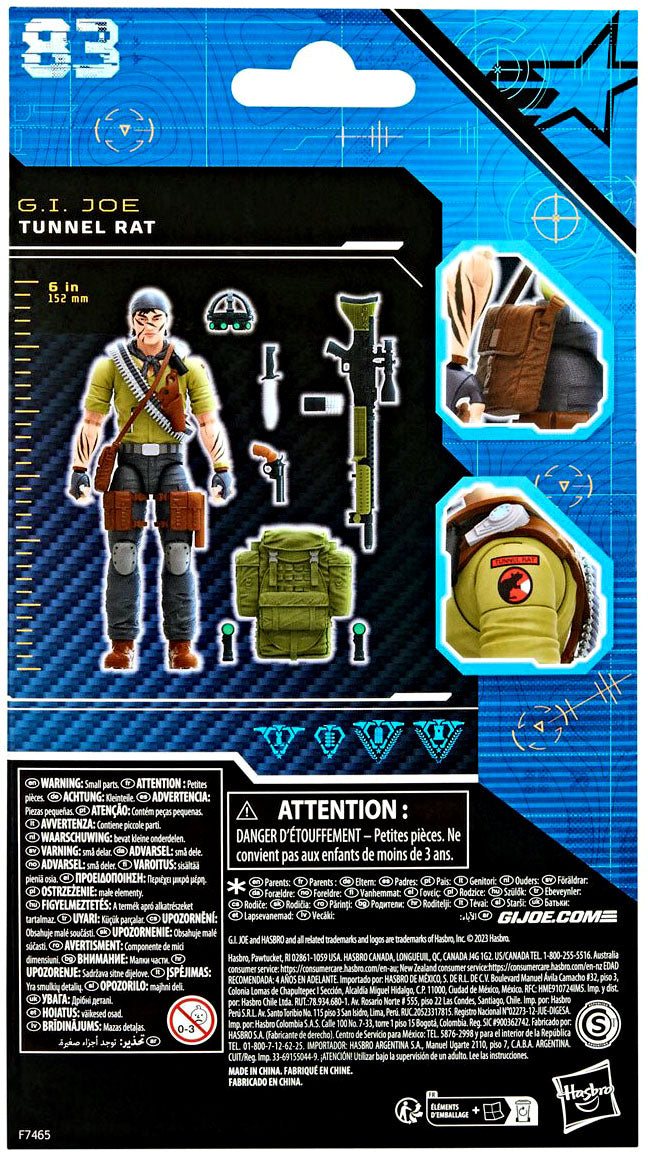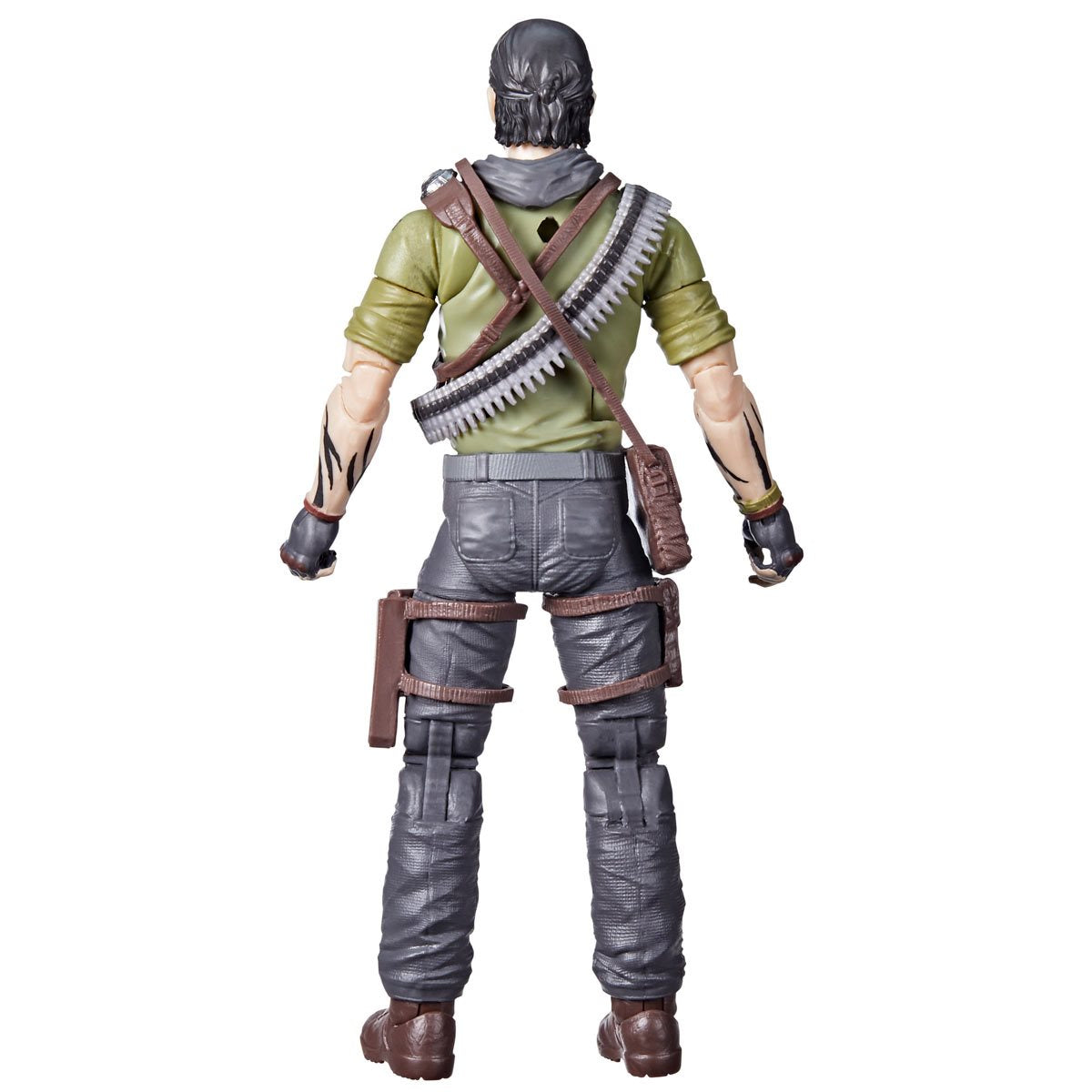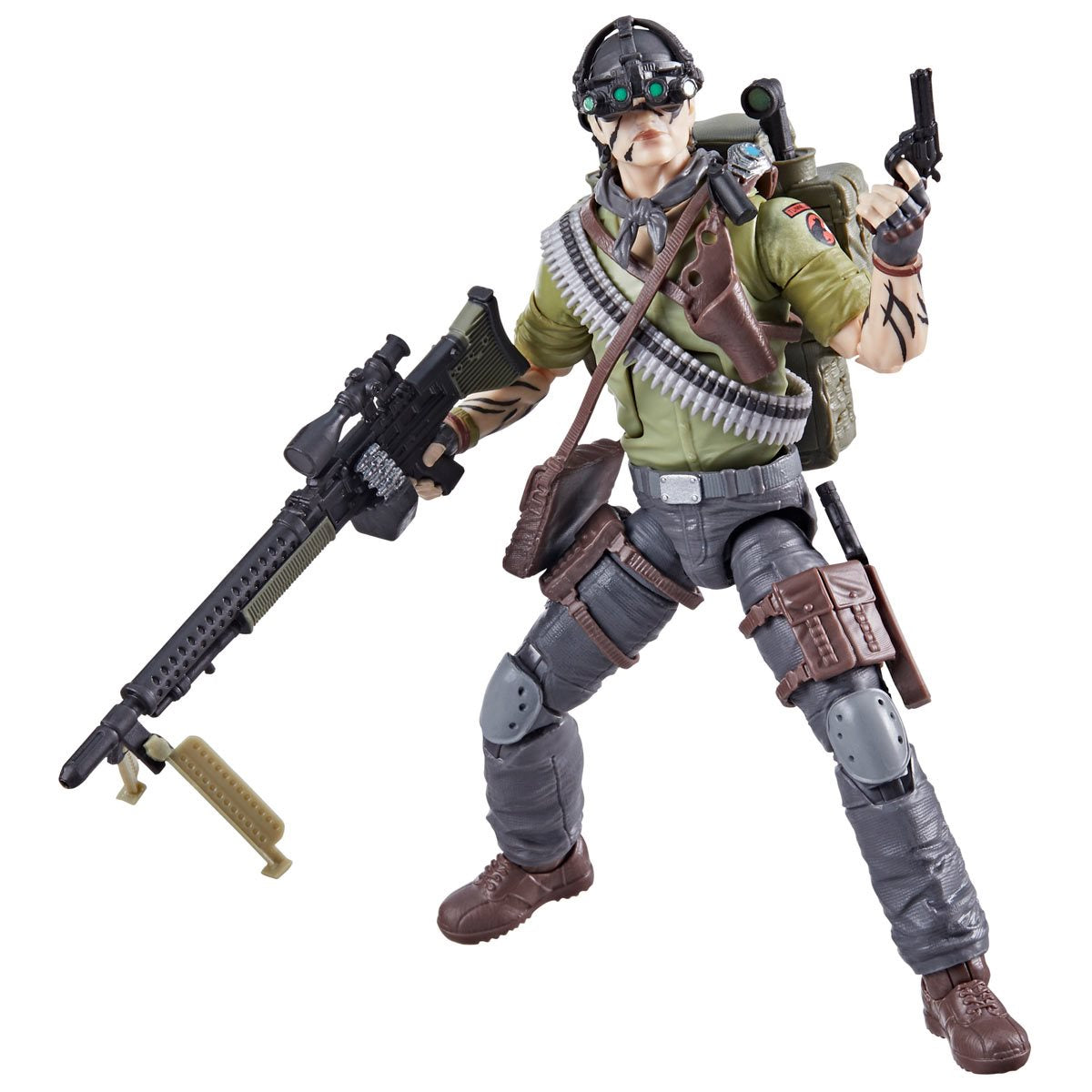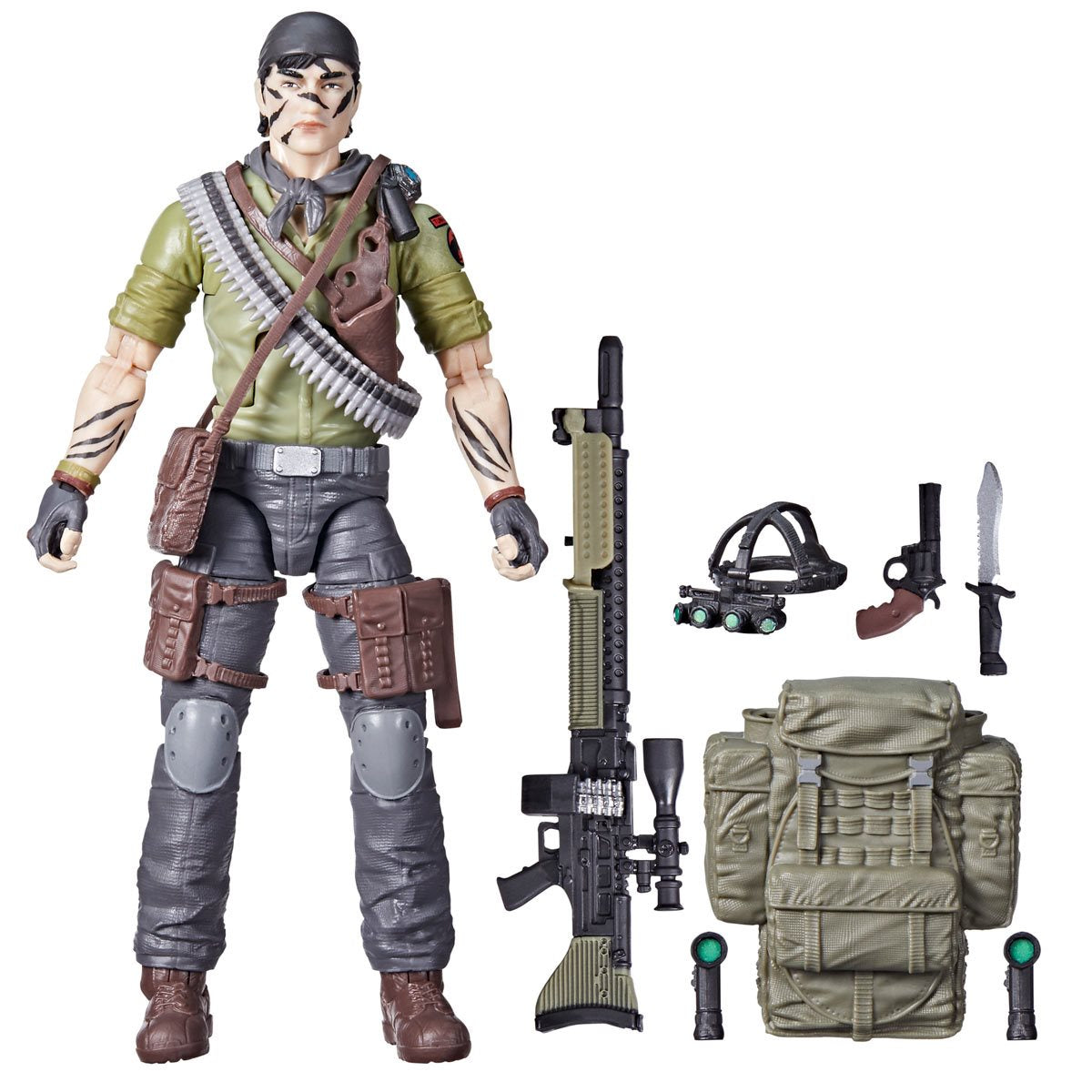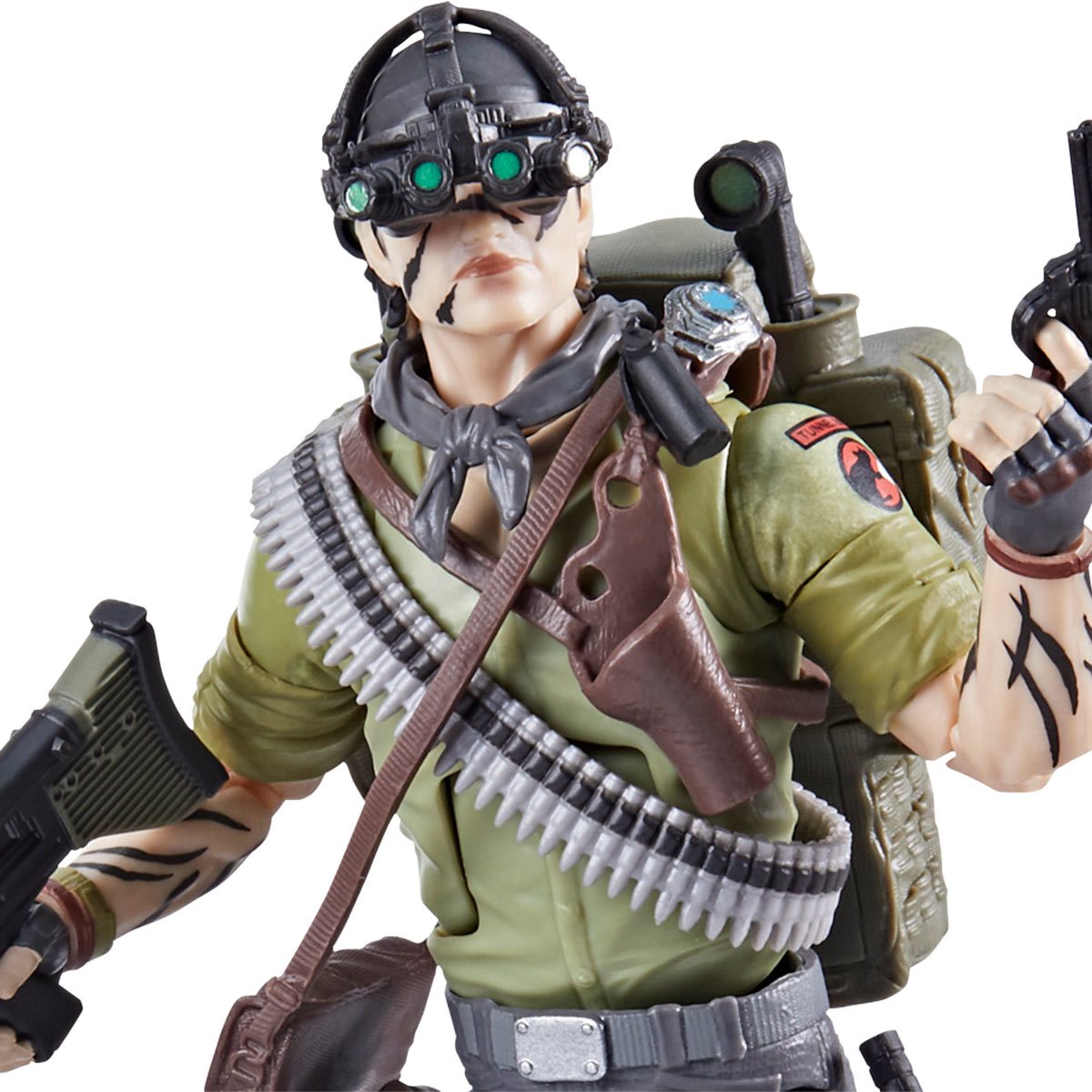 Pre-Orders
What Are Pre-Orders:
When manufacturers (like Hasbro) create new designs, and have secured licensing of the designs with the "owners" of the likenesses, they send distributors like us a cut sheet with pictures offering us to place orders for the products.  These cut sheets contain images and pricing, and we immediately list the item for sale so that you have the earliest opportunity to reserve a spot to purchase the item.
Why would you want to pre-order:
Unique and high demand designs often sell-out and by pre-ordering you are ensuring that you will get one of the products, even if they sell-out everywhere else.  By pre-ordering with us, you are being placed on our list of priority customers for that particular item(s).
Why is there a limit on the numbers:
Because by limiting quantities licensors are creating a collectibles market for the designs.  For this reason it is hard to know if there will be enough supply for the demand and if there will be follow on restock of high demand designs.  Collectors often purchase pre-orders to ensure they do not get shut-out.  
How long do Pre-Ordered Items Take To Arrive:
The absolute minimum is 60 days from the time the design is released.  More typically it takes around 90 days from the time we first list the product for sale.  Occasionally, there are very long wait times, even as long as a year to receive these items because of numerous issues that are completely out of our control.
How Accurate Are The Dates:
All of our availability dates are good faith based on what Hasbro shares with us. That being said Hasbro's production dates can often be pushed back due to factors that are out of our control and we are left waiting to receive our shipment to send to you. When we receive inventory it is based on when we placed our order with Hasbro, so thus there is no "hard date" that they can tell us when we will receive our shipment.
Also please be aware that Hasbro does not provide all retailers with products at the same time and changes dates constantly. 
If you see these specific figures on shelves, you most likely "should" receive your shipment within 30 days.
Pre-Order Cancellations / Refunds:
Pre-Ordered items can be canceled for a full refund if requested within 36 hours of purchase.
If you wish to cancel after this period you have two choices:
You may cancel any individual pre-ordered item, or the entire order, in the form of a store credit gift card that never expires for 100% of the purchase, up until the time we ship your order.
Alternatively, you can ask to have any pre-ordered item, refunded back to your original form of payment less a 25% cancellation fee since we place a confirmed order with our vendors within 36 hours of your purchase.
We proudly guarantee fulfillment on any individual Pre-Order item.  If for any reason we are unable to fulfill your pre-order item within 1 year of your order, we will refund you completely back to your method of payment for that item.  All pre-order items received from vendors to send to you as part of a larger order cannot be cancelled other than to store credit.  
Our Shipments to You:
We always try to ship out your orders the very next business day after receiving your products.  We can assure you that we never hold orders and will work as long as we have to get you your orders as soon as possible.
All Pre-Orders are charged at time of purchase due to the production/financial commitment we make to Hasbro.